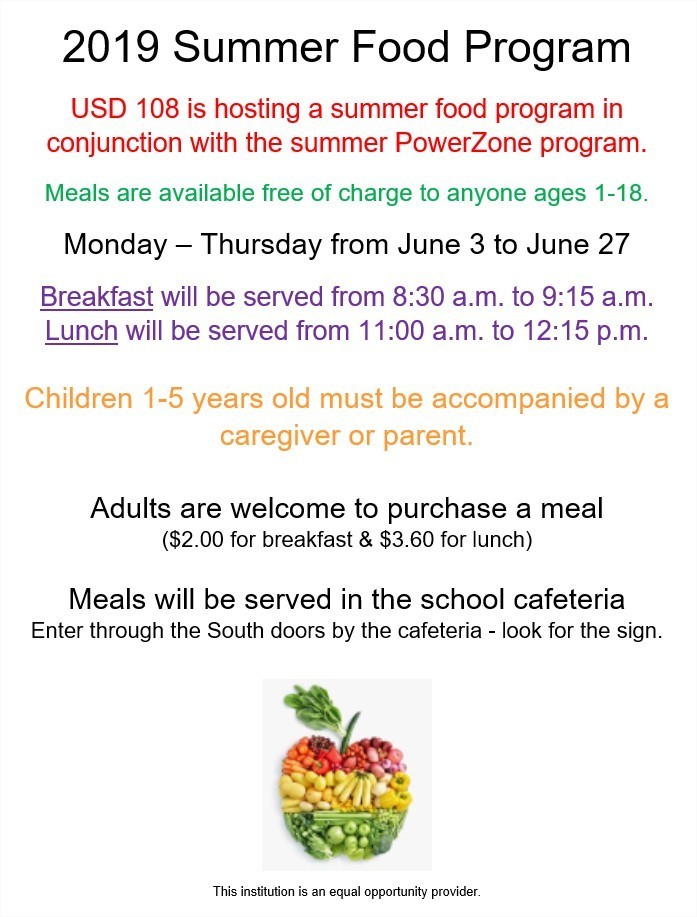 Summer Food Program beginning June 3, 2019
er
Thursday, May 09, 2019
USD 108 is hosting a summer food program while our summer PowerZone program is in session.
Meals are available free of charge to anyone ages 1-18.
They will be served Mondays, Tuesdays, Wednesdays and Thursday from June 3 thru June 27. No meals on Fridays.
Breakfast will only be served from 8:30 a.m. to 9:15 a.m.
Lunch will be only served from 11:00 a.m. to 12:15 p.m.
Children 1-5 years old must be accompanied by a caregiver or parent.
Adults are welcome to purchase a meal - $2.00 for breakfast & $3.60 for lunch.
Meals will be served in the school cafeteria
Enter through the South doors by the cafeteria - look for the sign.
Other locations hosting a summer food program 2019:
https://cnw-web.ksde.org/SFSPLocationsASP/SFSP/SFSP_Menus/SFSP_Locations.asp