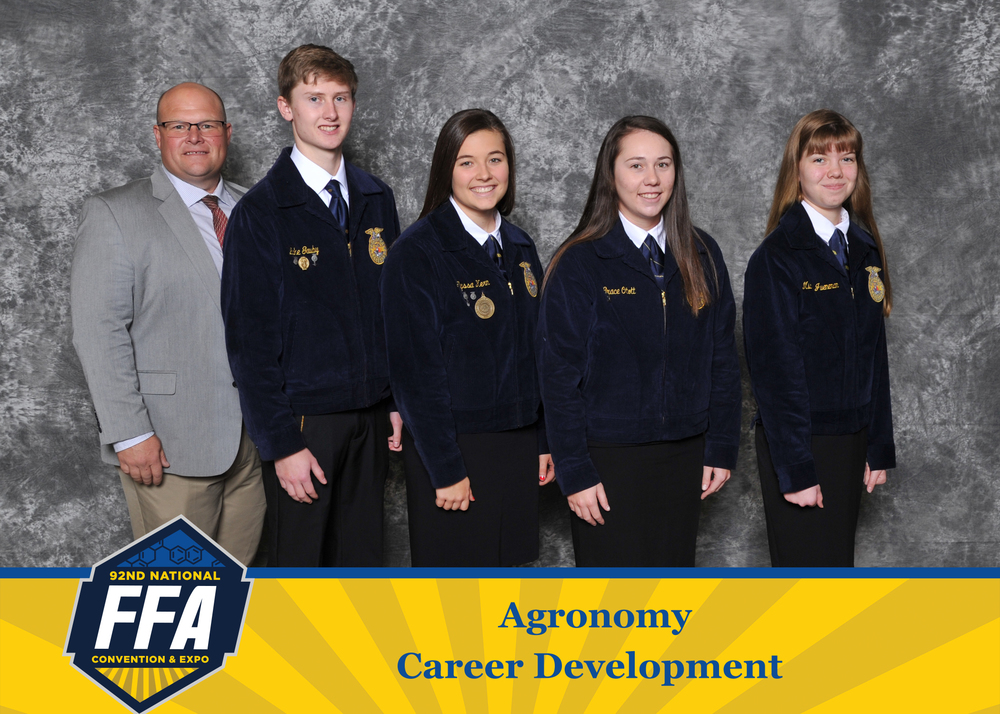 WCHS FFA Agronomy Team 2019 Reserve National Champion Team
er
Monday, November 25, 2019
The Washington County FFA Chapter attended the National FFA Convention in Indianapolis, Indiana from October 29 – November 2, 2019.
WASHINGTON COUNTY FFA AGRONOMY TEAM – 2019
2019 Reserve National Champion Team
In team competition, the chapter represented Kansas in the National Agronomy Career Development Event. The team first had to earn the right to compete at the National level by winning the state competition in May in order to advance. They put in many hours this summer and fall to represent Kansas at the highest level. The Washington County FFA Agronomy Team, consisting of Grace Otott, Luke Gauby, Alyssa Kern and Michaela Jueneman, finished as the Reserve National Champion Team at the National Agronomy Career Development Event.
Individually, Grace Otott led the way placing as the First Place Individual overall. Alyssa Kern finished 10th, Luke Gauby placed 12th and Michaela Jueneman placed 13th overall out of over 130 individuals competing in the National Contest from all the state qualified teams. As the top individual in the Nation, Otott received a $1000 cash award and was recognized during the Final Session of the National FFA Convention on stage, broadcast live on RFD-TV. Kern, Gauby and Jueneman each received a $400 cash award for their achievements.
"These students worked very hard on this past two to three years and their performance reflects that effort. They represented our school, community, and state very well in this competition. I am very proud of each one of them!" said Mr. Kern, advisor.
Grace Otott is the daughter of Jeff and Nancy Otott, Luke Gauby is the son of Gary and Tricia Gauby, Alyssa Kern is the daughter of John and Lisa Kern, and Michaela Jueneman is the daughter of Michael and Elaine Jueneman, all of Washington, Kansas.
The national contest is a great deal different than the state competition. They had to learn over 200 crop plants and weeds in their vegetative stages and seeds, 45 insects and their characteristics, analyze seed samples to determine impurities, use soil monoliths to answer questions pertaining to soil properties and structure, interpret fertilizer tests and plant tissue analysis reports and applying these results to real world applications and give suggestions for management. Students learned to judge hay crops, vegetables, seed samples and forages, as well as analyzing forage laboratory test results dealing with TDN, ADF, NDF and protein levels. The students then had to provide written reasons describing the characteristics that allowed them to formulate their decisions for selecting one sample above the others.
Grain Grading allows the student to evaluate two crop samples (corn, wheat or soybeans), determine the degree of damages, foreign material, dockage and impurities and requires the student to give the crop an official grade based on Federal Grain Inspection Standards that grain buyers and marketers would use in determining the value of the producer's grain. Another area includes recognizing disorders, diseases, damages and environmental factors that can effect crop growth and determining what areas of the plant have been damaged. Students must know all types of agricultural equipment and what crop(s) that they are used for. Examples include harvesting and planting equipment for vegetable crops, potatoes, sugarbeets, peanuts, cotton, and row crops and forages grown in the U.S.
The participants also had to participate in a "Team Activity" which was designed to challenge the students with creating a management plan based off of given information for a producer. The members were asked to analyze breakeven points, costs of production on a per acre basis and for the entire farm including herbicide, fertilizer, insecticide, tillage, planting costs, and seed prices. Members were required to figure pure live seed and find the most economical choices. They had to determine the cost of actual nutrients in fertilizer and compare figures across several options in order to arrive at the most cost effective and productive recommendations for the producer. They had one hour to determine all of this information and then give a 10-minute presentation to a panel of judges.
Since they have now competed at the National contest, the students are now ineligible to compete in the FFA Agronomy career development event at the high school level. The National FFA Agronomy CDE is sponsored by Bayer CropScience as a special project of the National FFA Foundation. It is one of 24 different National events that uses the thrill of competition to connect classroom learning and careers.
This is the seventh time that the Washington County FFA Chapter has qualified to compete in this National competition, and each year has placed either first, second or third as a team. (2005 – 3rd, 2008 – 1st, 2009 – 1st, 2010 – 2nd, 2011 – 2nd, 2015 – 2nd, 2019 – 2nd)
2018 WCHS Graduate Scuyler Zenger received his American FFA Degree at this year's National FFA Convention, the highest degree that the FFA can bestow. Zenger was present at the National Convention this year to receive his award from the National FFA Officers on Stage.
Other student delegates representing the Washington County FFA at the National convention were Jack Gilliam, Coy Stamm, Shai Zenger and Peyton Chandler.