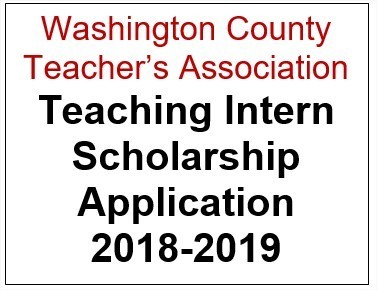 Washington County Teacher's Association Teaching Intern Scholarship Application 2018-2019
Elizabeth Romeiser
Friday, August 17, 2018
Washington County Teacher's Association
Teaching Intern Scholarship Application
2018-2019

ELIGIBILITY: Recipient must be a former graduate of the high schools within the boundaries of the current
Washington County School district, Washington County, Kansas. Recipient must be attending an accredited
college majoring in education who will complete their student teaching in the coming spring or fall. Priority will
be given to those students who have demonstrated outstanding leadership, community service, exhibits good
character and moral traits, and have excelled scholastically. Students may only receive this scholarship once.
Documentation with student teaching assignment must be included in application.

AWARD: A maximum of $250 in total scholarships awarded, this is individually non-renewable. Scholarships
will be awarded annually to one or more students while completing their Student Teaching Internship. The
scholarship is to be used toward expenses associated with being a college or university student preparing to be a
teacher. The Scholarship Selection Committee reserves the right to decline an application and/or to split the
scholarship in the instance of a tie. Additionally, if funds are limited for the WCTA, a lesser amount may be
awarded.

SPONSOR BIO: The Washington County Teacher's Association are supporters of the youth and former
graduates of the high schools within our school district, USD 108 in Washington County, Kansas. Realizing the
value of our students, alumni, parents, community members, and school supporters, the WCTA strives to further
the development and advancement of our future educators. Together, we unite to secure the promise of quality
education and create an environment where people and communities can grow to their fullest potential.
Application: http://5il.co/4hnf